Remedial Tutor
•Union-represented employees under the Academic Student Employee Unit (BX).
•Covered by a Memorandum of Understanding (MOU) between University of California and the United Automobile Workers (UAW
•Employed temporarily to assists students in understanding course concepts, discovering solutions to problems, modeling study strategies, developing methods for independent work, and preparing for upcoming exams.
•Assigned to registered UC Merced graduate and qualified undergraduate students
•When no enrolled graduate/undergraduate students are available to fill a Student Remedial Tutor positions, Non-Student Remedial Tutors may be employed (to fill instructional demand)
Non-Student Tutor
•Non-Student Remedial Tutors may be appointed when graduate and undergraduate students are not available to fulfil a need.
•Non-Student Remedial Tutors are expected to hold at least a baccalaureate degree from an accredited college or university and have maintained at least a 3.0 grade point average and received at least a "B" grade in the course (or equivalent) they are applying to serve in.  They will therefore be required to provide official transcripts (uploaded to AP Recruit).
•Non-Student Remedial Tutors will be compensated on an hourly basis provided on Table 20 of the Academic Scales.  Each appointment is self-terminating and will not exceed a duration of one academic year. 
•The non-student remedial tutor shall follow the same hiring process as a UCM student remedial tutor (AP Recruit, box, etc.)
HIRING PROCESS 
 
Intake instructions for Remedial Tutors can be found
here
. 
Intake instructions for Readers can be found
here
. 
    
BOX PROCESS
SHORT WORK BREAK AND SEPARATION PROCEDURES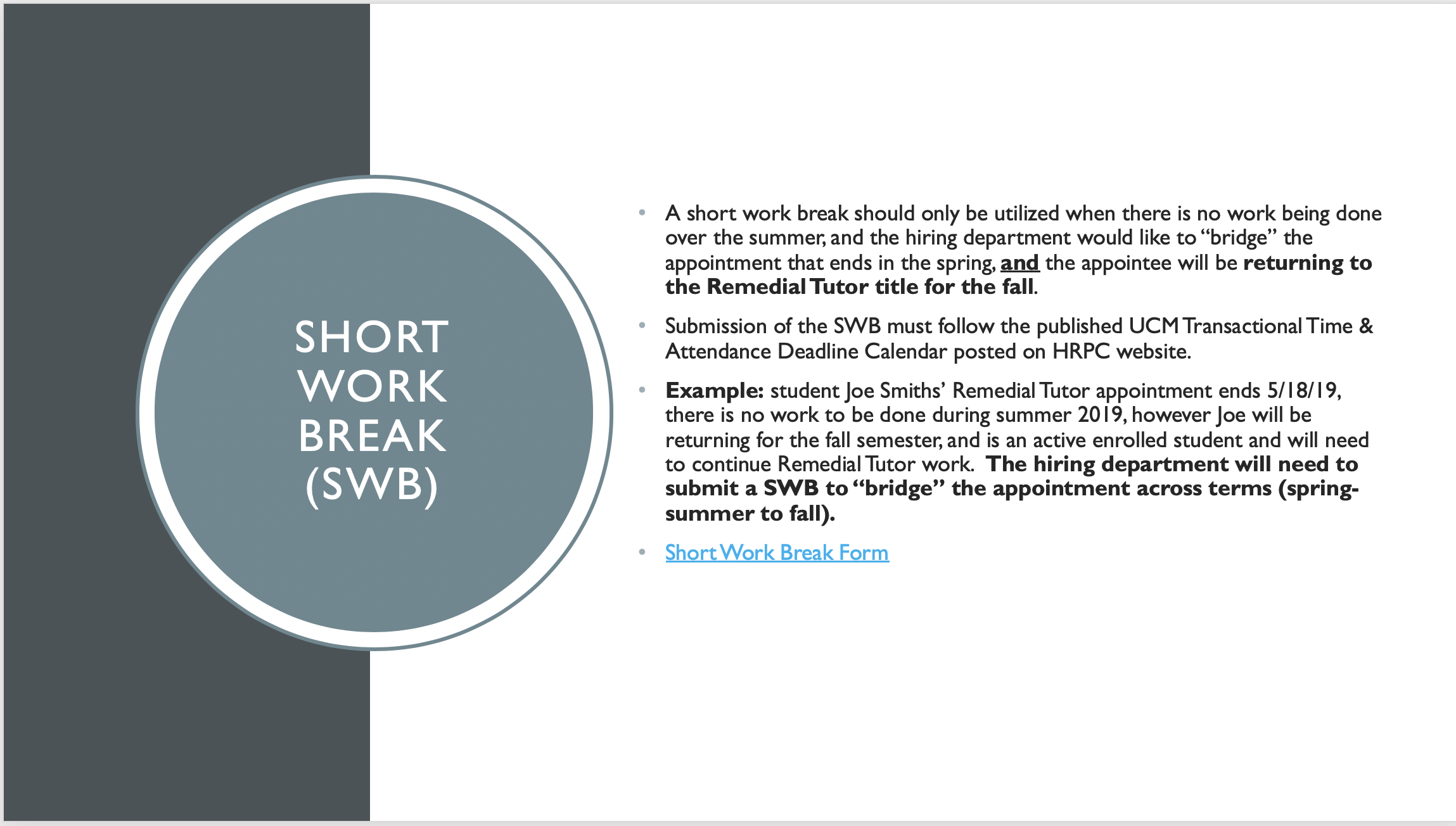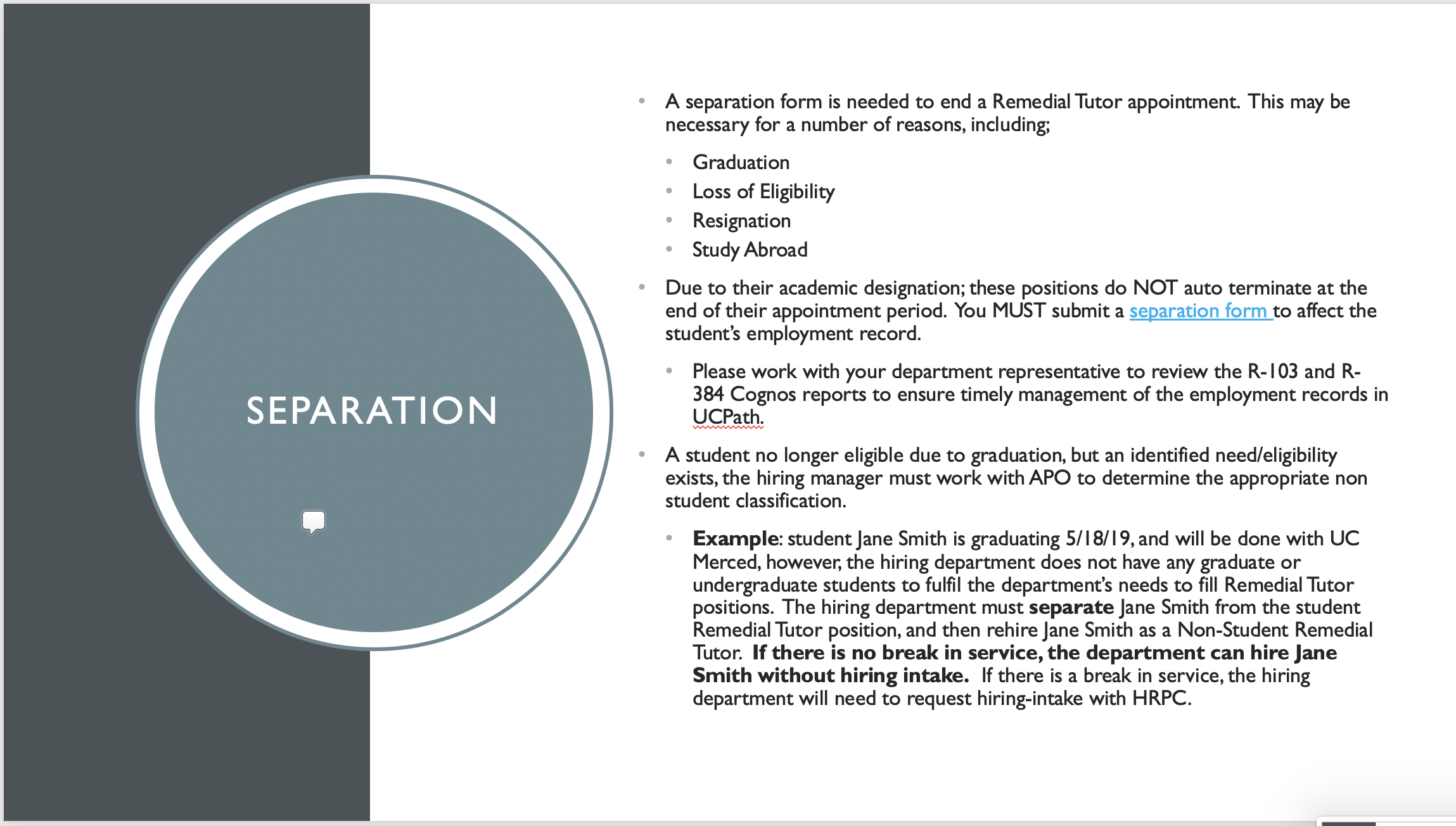 FORMS
Provide a copy of the appropriate form above to newly hired/re-hired student employees. The form contains relevan information related to hiring requirement such as the location to complete hiring documents and acceptable documents for form I-9.
Separation Form - Use this form to request separation of any staff, student or academic employee. The effective date of any actions is the 1st day following the employee's last day of work. The prior UITR in NO LONGER NEEDED. 
Short Work Break - Use this form to temporarily stop an employee's active appointment. (Example: A student holding 2 jobs may not work one during the summer, but take an additional job that might otherwise reflect as 3 active jobs during the same time. Using short work break allows for the employee to be "inactive" and not have to report zero hour timesheets). NOTE: A short work break may not exceed 4 months in length. 
Damage Payment Request - Use this form to request payment for an employee who performed work for the University prior to having knowledge of the State Oath Allegiance. Instructions and document are contained within the link. 
 
References
Remedial Tutor Rates - Effective 10/1/2019
Calendar, Deadlines and Helpful Links
Payroll Services
Student Employment
Appointment Procedures/Folders
CONTACTS